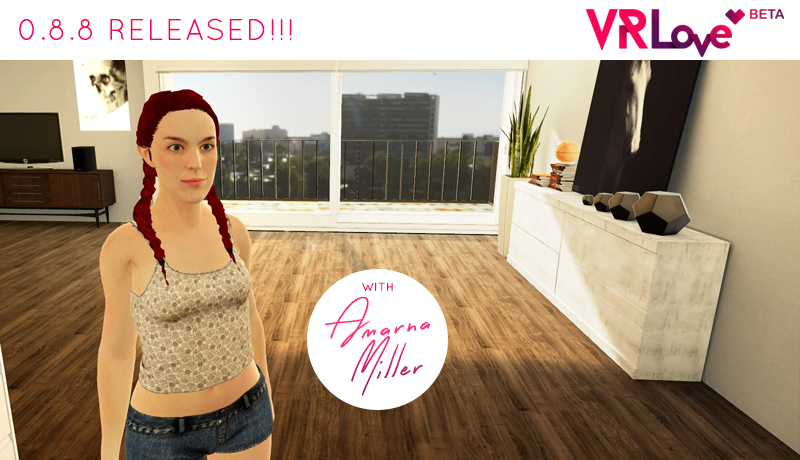 0.8.8 Released!!!
Hello everybody!
We are back to bring you the latest version of the game, with which we give a new direction change to the project, offering more usability for the user, focusing directly on VR.
We have fixed bugs and added some usability improvements, as well as the new 3D Amarna Miller model, with better textures and resolution.
We have created a new Launcher that fixes download speed problems, and offers options to the user, once he has chosen the gameplay mode he wish (Screen or VR, login system…), the game will adapt to his choice. In this way, if you want to play in VR mode, you can choose it and use the VR Headset, because we have introduced improvements in usability, not only in the Launcher, but also in the game, in such way you won't need to remove your headset nothing but when you finish playing.
Another interesting option that we have added, is the new menu, that once you have finished configuring your character, or visiting the shop, at the time you start the game (inside the history mode and the free mode), it will appear a menu, giving you the option to choose between a free movement mode or use a teleport system, for that users who are more likely to feel motion sickness.
Another important point, is the new model and textures of actress Amarna Miller. We have improved the textures and incremented her resolution for an optimal viewing, as well as a 3D model more faithful to reality.
We keep working hard to offer you the best. We have a lot ideas to develop that will come over time. Some sooner than others, but we ensure you that all will be significant. We want  to bring a new direction to the game, focusing more on Virtual Reality, by improving the quality control, making it more "usable" and logic with the interaction on the game. A more immersive and natural world.
We keep fixing errors and problems that may arise, and that's why we ask you for your commitment to report all the emerging problems that you could experience. It is very important for us and also for you as users.
Thanks a lot for your support.
VR Love team
Our work:
– Features
  · Gameplay
· Improvements in turns using teleport.
  · Improvements
· New choice menu between free movement or teleport for VR system.
· New Launcher that allows you to choose between screen mode or VR
and many other things.
· New installer that increases the speed of downloads.
· Characters
· New 3D Amarna model.
· Better Amarna textures.
· Fixed normal map in regular game.
· Fixed facial expressions.
· Adjustments and improvements of characters textures in the game.
· Fixed character editor functions.
· Fixed clipping character clothes problems.
· Fixed color tone in character's hair.
· Fixes
· Fixed some problems at the time of giving rewards.